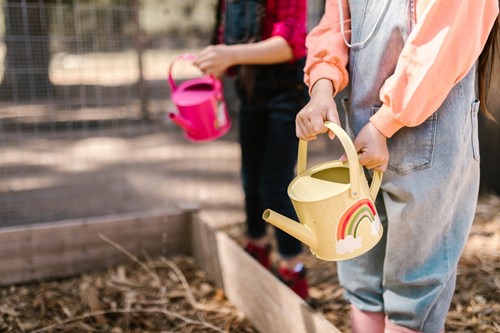 If you want to enhance your outdoor living space as well as the interior, there are countless ways to add functionality and aesthetic appeal with DIY building projects. You can transform an empty backyard into a custom oasis in a variety of ways.
To get started, here are some ideas for backyard building projects to try:
Build a raised garden bed
Whether you want to grow herbs, veggies, flowers or a mixture of all three, raised garden beds are a perfect way to start your backyard garden. Constructing garden beds with wood is a simple building project, only requiring a few basic tools and lumber. Add soil and your choice of plants for a dedicated gardening space you can use all year.
Put up a pergola
If you need stylish shelter in your backyard, consider building your own pergola. You can construct a functional pergola during a single weekend using any number of free plans available online. Or, for a more out-of-the-box solution, try a DIY pergola kit including full project instructions and materials. Regardless of what you use to build your pergola, you'll transform your backyard and functional space with timeless charm.
Create an outdoor cooking & dining area
Outdoor cooking and dining is the perfect way to get the most out of your backyard. What's even greater is that it's simple to DIY. You can build a full outdoor kitchen complete with grill, prep space and storage. Or, simply create a dining area to enjoy meals outdoors.
Try combining an outdoor table with modular bench seating with hidden storage space. Build a serving cart or prep table to go with your grill and have everything you need for an outdoor feast in your backyard.