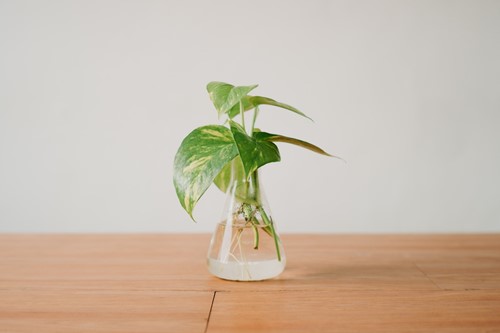 If you're an experienced houseplant owner, you have likely tried propagating from cuttings. Many plants will grow roots if put in water, giving a trimmed off branch potential to be an entirely new plant. While it's easy enough to use up your own drinking glasses or clear recycling for propagation, there are some trendy ways you can make a propagation station artwork on its own. Here are some ideas for decorative ways to display your propagations-in-progress:
Hanging Racks of Test Tubes
Test tubes are the perfect size for plant cuttings and look great displayed in hanging shelves. You can either purchase a ready-made test tube rack or create one by drilling holes into wood. Attach rope or picture wire to the ends to hang and now you have a display for all of your plant cuttings. If you have a large collection use this same design but add multiple levels to accommodate more tubes.
Mounted Vases
Vases with flat sides are perfect wall containers for plant propagation. There are many ways you can attach the vases to the wall depending on the look you're going for, from metal frames, brackets or powerful adhesive. Try mixing up shapes and sizes of vase in the style of a gallery wall for a funky and visually interesting display. The vases will give you full view of growing roots and look like unique natural art at the same time.
Geometric Shelves
Geometric shelves continue to dominate decorating trend lists and they are also a perfect way to build a beautiful plant propagation station. Create a shelf of small jars, tubes or bottles with your plant cuttings and arrange them in an aesthetically pleasing manner on one or more shelves. The combination of fresh greenery and clear water will make an excellent decorative piece while still giving you full access to your growing plants.
Macrame Jar Hangers
Macrame hangers are a popular way to display potted plants either hanging from the wall or ceiling. They are also great for plants in-progress depending on the size of the container you use. Try using a macrame wall hanger to display multiple jars together and watch the roots grow. The variety of styles of hanger available on the market will give you countless style options—or you can make one yourself.
Propagating plants from cuttings is an enjoyable facet to houseplant care. You can grow brand new plants either for yourself or give them away as gifts to friends and family. Observing roots grow can be rewarding and visually fascinating, making it perfect to put on display. Try these propagation station ideas to turn your growing plants into artwork.